In the coordinating Jewelry Navigator Podcast, (click the highlighted link to listen!) I visited with Bella Campbell, of Campbellian Collection jewelry.
I was star-struck when I met her in Tucson last month, and she's just as lovely and beautiful as her jewelry.
Bella Campbell of Campbellian Collection at AGTA Tucson
Originally from Georgia, the former republic of Russia, Bella immigrated to the U.S. thirty-eight years ago.
She overcame language barriers to excel as a fine jewelry designer, with 7 AGTA Spectrum Awards, which are the like the Oscars for jewelry designers.
Bella is motivated by the same innate curiosity that drove her while acquiring a Master's degree in physics in Georgia, as she boldly combines unusual gemstone colors and arrangements for jewelry designs that are one of a kind and exclusive within her Campbellian Collection.
The Neon Blue:Green Tourmaline and Emerald Earrings with Diamond Accent Won Best Use of Color Winner for Spectrum Awards for 2015 -image from Campbellian Collection Instagram feed.
She settled in NYC, and worked behind the scenes for major jewelry designers and for a large fine gemstone dealer.
From left to right: Platinum ring set with mandarin garnet and red spinels; 18kt white gold earrings, set with neon green and copper bearing tourmaline, accented with diamonds; Earrings set with Hot pink, light pink, and purble spinel, in 18kt white gold, whith diamonds – photos by Campbellian Collection
She discovered her gift for design through her love of colored gemstones, and from there, launched Campbellian Collection just four years ago.
She finds her designs appeal to women who purchase for themselves, and bypass the wait for a gift occasion.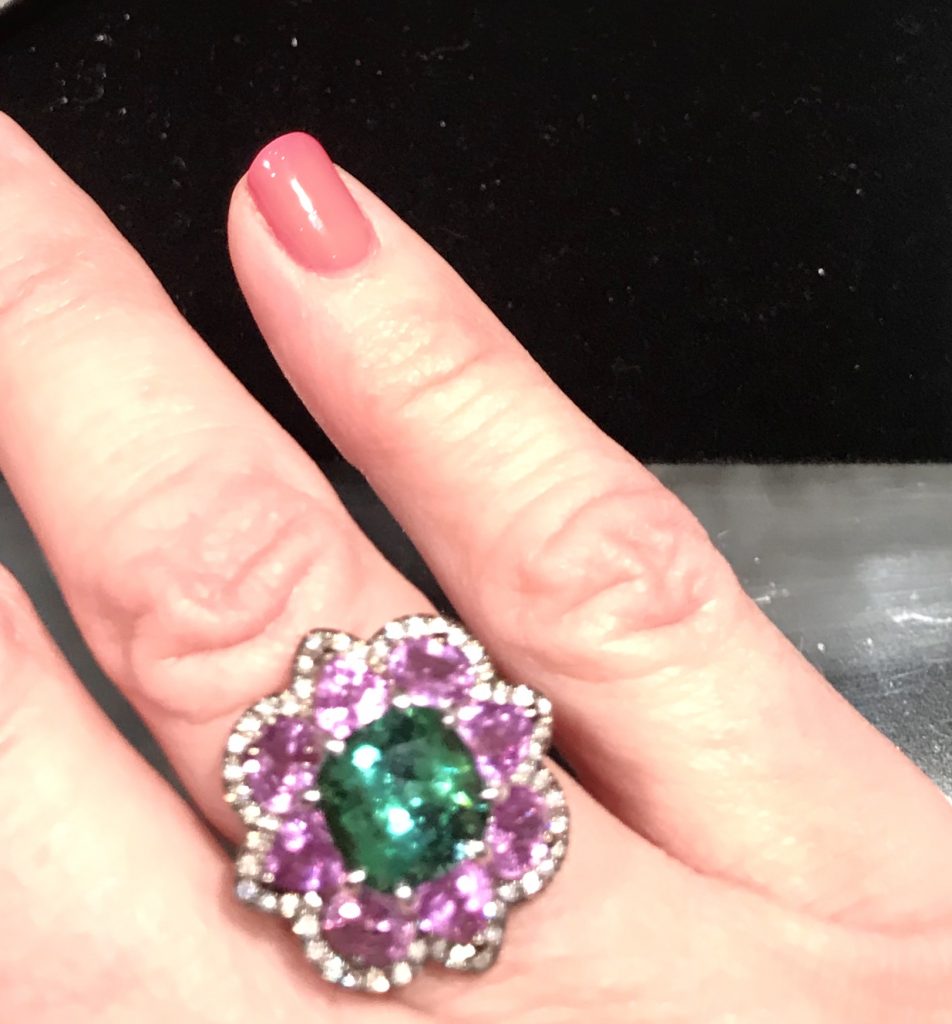 I had the pleasure of trying on this ring designed by Bella at the AGTA Gem Fair this past February in Tucson.
Set with a blue green tourmaline center, surrounded by pink spinel. – photo Brenna Pakes
Bella is endearing, lovely, and a woman setting an example for those who may feel they need to overcome obstacles to fulfill their dreams.
You can find Bella's jewelry on her website, campbellian.nyc