Jewelry For Year Round Treats
(Darth Vadar Necklace, Han Cholo; Wonder Woman inspired ring, Paul Michael Design; Green Lantern inspired ring, Paul Michael Design)
(This post contains affiliate links. We earn a commission when you click on certain links to shop.)
You don't need a holiday to enjoy jewelry treats all year long.
Whether your fantasy is to combat the evils of society, or create mayhem, Halloween is a time when we can slip into personas of our favorite heroes or villains. As kids, it was ok to wear our costumes year round. Not so much as adults.
The costumes last for one night, the candy-maybe a week or two. But, what if there was something we could wear every day to celebrate the characters we idolize?
Paul Michael Design uses pop culture super heroes and fiction mega stars as inspiration for jewelry collections dedicated to their captivating stories and characters.
[bctt tweet="Paul Michael Design uses pop culture super heroes and fiction mega stars as inspiration for jewelry collections dedicated to their ageless stories and characters. -Jewelry Navigator" username="jewelrynavigator"]
As his motto, "Jewelry to match your mood and your imagination… ", Paul Bierker. of Paul Michael Design, is the master designer and jeweler behind his jewelry collections honoring themes and characters from science fiction, fantasy and pop culture stories, from movies, comic books and series.
[bctt tweet=" "Jewelry to match your mood and your imagination… "" username="jewelry navigator"]
Paul creates jewelry by breaking barriers of imagination and conventional goldsmithing. Paul Bierker's studio, Paul Michael Designs is outside of Pittsburgh, where he designs and creates bespoke iconic and traditional custom jewelry.
All Paul Michael Design jewelry is designed and manufactured in the U.S., at his studio.
[embedyt] http://www.youtube.com/watch?v=kxA_2xcCxaE[/embedyt]
Paul Michael Design creations are available online at Geek dot Jewelry on Shopify, Paul Micahel Design on Custom Made, and of course, paulmichaeldesign.com.
Live out your favorite fantasy and superhero stories with wearable treasures from your favorite sci-fi, super hero and fantasy stories created by Paul Michael Design.
Celebrate your alter egos and heroes indefinitely with jewelry treats created by Paul Michael Design. Scary talented, versatile and innovative, Paul Michael Design has manifested a jewelry box full of treats from which to choose.
Click on your favorite featured piece in the photos to be directed to purchase an item, or for more information.
Super Hero Inspired Jewelry
Wonder Woman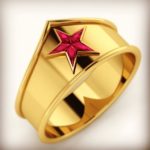 Every woman is a Wonder Woman!
Is there a Wonder Woman in your life?
Show her you know who she really is with the Wonder Woman Tiara ring.
Prices start at $195
Black Widow
Just in time for Halloween, the Black Widow ring is available with or without black rhodium finish.
Prices start at $550
Captain America
Represent the all American hero with this Captain American ring, set with diamonds and accented with custom blue enamel, and available in men's and ladies' sizes.
Prices start at $2,950
Iron Man
Burning hot and steady, Iron Man inspired jewelry is available in rings or pendants, made with 14Kt White or yellow gold, palladium or platinum.
Iron Man Reactive Arc ring and pendant with created blue sapphire or created ruby, prices starting at $1595.
Green Lantern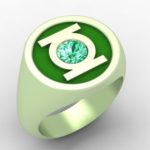 Green Lantern ring, at CustomMade.com prices start at $300
Flash
Ladies Flash super hero ring sterling with 18Kt with lab created ruby starts at $995.
Jewelry Wonders any Wizard Would Love
Harry Potter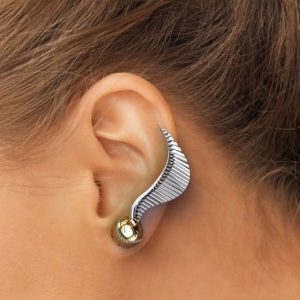 Golden Snitch ear climbers starting at $155, available in two tone with sterling silver and 14kt yellow gold, 14kt white or yellow gold and with or without gemstone, available on Shopify at Geek Dot Jewelry
Golden Snitch pendant, at CustomMade.com starts at $165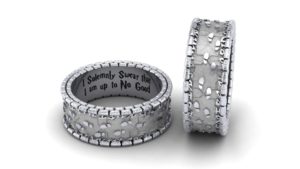 Harry Potter inspired Meandering Map ring, starting at $295,
Geek Dot Jewelry
Star Wars
Stories of Star Wars are brilliantly represented with Star Wars inspired jewelry designs.
R2D2 Inspired engagement ring with natural or created sapphires, starting at $1495, Geek Dot Jewelry  
Star Wars Droid inspired locket necklace $575
Tie Fighter inspired ring with black onyx or
black diamond, prices starting at $450, Geek Dot Jewelry.
There's a New Droid in Town
The process for creating the Star Wars inspired BB8 spinner ring was worth the challenge to engineer its moving parts. As stated on his Shopify site, Geek Dot Jewelry,
"The BB8 inspired spinning ring has been months in the engineering, from its form to its mixed metallurgy every detail has been painstakingly toiled over.
Paul would literally wake in the middle of the night and change the design. Now the production process is in place. 3D printed parts will be assembled in the most hi-Tech way using lasers and pair that with Old World craftsmanship. BB's head will not only spin, it will also circumnavigate the ring as well." BB8 spinner ring starts at $1050, available in men's and women's sizes.
BB8 inspired sterling silver pendant with citrine, $99.
Yellow gold and diamond version available upon request.
Collaborating Forces
With a nack in the same niche, Paul Bierker adds Han Cholo designs to his Shopify site with licensed Star Wars jewelry, created by Brandon Schoolhouse at hancholo.com.
From Han Cholo licensed Star Wars collection at Geek Dot Jewelry.
Darth Vader earrings available in stainless steel and 14k vermeil, $85
Star Trek, Eternal Frontier
Ladies Star Trek Enterprise ring, available with blue topaz or blue diamond, in sterling silver, 14k white gold
and platinum, prices start at $795.
Toy Story's Buzz Lightyear
As described on Paul Bierker's Shopify site, Geek Dot Jewelry, "To Infinity and Beyond!!! This Buzz worthy gem of a ring comes in silver with Amethyst, Peridot, and created Rubies. The Gold, Palladium, and Platinum come with natural Rubies."
Prices start at $1850
Have a Ball!
Only go as far as looking down at your hand for your latest Pokemon conquest with this Pokemon inspired ring.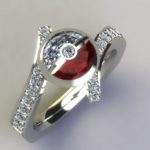 Available in 14 karat white gold, palladium and platinum, set with your choice of natural or created stones in red, green, purple or blue and diamond center stone, , prices start at $1850.
Men's Pokemon band, available in assortment of precious metals
and gemstones, prices start at $1650
Fantasy Journeys with Dr. Who
"Open a new world in your love of Dr Who. This Tardis locket opens up and expresses itself with a bright blue custom cut created sapphire. The locket is available in two sizes. (large is 20mm tall and small is 15mm tall) Materials include super premium 935 sterling silver, 14 karat yellow and white gold. As usual anything is possible with the custom option. So ask and we will create."
Dr. Who Tardis Locket Pendant, prices starting at $179
Ladies "Spin Doctor" Tardis ring
As described from his Geek Dot Jewelry site on Shopify,
"It is much larger on the inside. This massively over engineered piece of Tardis jewelry will remind you daily that life is crazy! You have to enjoy it while you can. The spin Doctor is available in sterling silver, 14 karat white and yellow gold as well as platinum. A big and bold ring not for the timid. Select your choice of shank style and natural or created gems. We will confirm shank choice upon order. So take a spin and enjoy your passions together Great Jewelry and the Good Doctor.", prices start at $1500.
Encrypted mystery and message with Gallifreyan inspired Dr. Who custom signet jewelry; available in rings, pendantsand cufflinks.
Will interpret up to 10 Gallifreyan words! Prices start at $229.
Scary Cool Jewels
From Paul Michael Design Geek Dot Jewelry on Shopify, Ladies With This Skull ring,
"Show your true love you are out of your skull for them. This heavyweight design features 4 skulls and a premium european shank. Available in your choice of metals and gems."
Prices start at $550.
Flip your lid for this Love vs Hate skull ring.
Jewelry to Keep You Up All Night
Sink your teeth into "Bite Me" vampire ring, starting at $395 with CZ
Paul Michael Design on CustomMade
Halloween Nightmare Jewelry
Show them Jack Skellington's not such a bad guy with this men's Nightmare Before Christmas inspired character ring.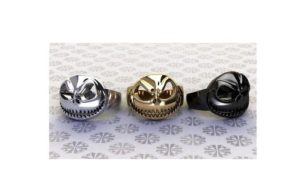 Available in  14K white, green, rose, yellow gold, palladium, platinum, bright silver and oxidized silver. Prices start at $199 at Paul Michael Design on CustomMade.
Jewelry that seem like tricks are all treats!
Paul Michael Design is a studio that we will feature often, as they continue to shock and surprise us with jewelry to reflect our dreams, answer our desires to keep up with our imaginations.
Vote for your favorite Paul Michael Design treat in the comments below, and keep watch as we share more cool jewels-follow us on twitter for updates!