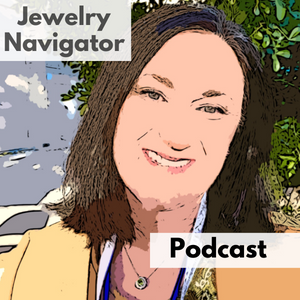 Need help shopping for jewelry?
Do you know the best way to care for your jewelry, or how to tell if a jewelry item is "real"?
Brenna Pakes is founder of Jewelry Navigator.
Through Jewelry Navigator Podcast and and across social media platforms, Brenna shares tips on many aspects of jewelry while guiding listeners to unique and timeless jewelry selections created by the jewelry designers and specialists featured on the podcast show.
As a Graduate Gemologist from GIA (Gemological Institute of America), and with 20 years of experience, Brenna shares valuable jewelry insights helping visitors:
Learn About Gems & Jewelry
Save Money on Jewelry
Know What to Shop For
Where to Follow Jewelry Navigator
You can find current Jewelry Navigator content on Instagram @jewelrynavigator and weekly feature updates on Linked In
Jewelry Navigator Podcast
With almost 20,000 podcast downloads, Jewelry Navigator Podcast reaches a worldwide audience.
Since 2018, Jewelry Navigator Podcast has been sharing stories about gemstones, jewelry designers, and industry experts.
Jewelry Navigator Podcast is available on major podcast platforms, including Apple Podcasts, Spotify, Stitcher, Podbean, and Google Podcasts.
Click HERE to listen to a few episodes!