What could possibly compliment a private showing of fine jewelry better than a glass of champagne while beholding rare gems, like taaffeite, a lavender gem that sparkles as much or more than diamond, and blue color change Bekily garnet?!
Today, I visit with the daughter of the mother – daughter team of California Girl Jewelry, Denise Forbes, where from their boutique in San Francisco, they treat clients and walk in customers to champagne and an entrancing selection of gemstones, along with jewelry designs in which to enhance and showcase them.   
Below is the video Denise mentioned that was aired on 5/20/18, and I'm so excited I get to see them and their boutique! I hope to visit their boutique sometime soon!
[embedyt] https://www.youtube.com/watch?v=PRqyr4XRi64[/embedyt]
The partners and their all women design team share enthusiasm and a knowledge of rare gemstones that serves their clients' best interests, while offering exceptional service with free ring sizing, free shipping, and lifetime maintenance.
Below is a video of a set taaffeite – UNBELIEVABLE!!!
[embedyt] https://www.youtube.com/watch?v=Df7-5uFbCss[/embedyt]
Below are photos of some of the exquisite gems they set into jewelry. (All photos courtesy of California Girl Jewelry)
New amethyst find: purple pearl tension set in solid 18 k yellow #gold with a satin finish to draw the eye to the gemstone #purplepearl #amethystring #color #gemstonejewelry #sparkle #jewelrydesigner #bywomenforwomen #allwomenbusiness #sanfrancisco

Posted by California Girl Jewelry on Saturday, May 19, 2018
AND…above is the purple pearl amethyst Denise referred to!
It DOES look like opal!
11.2 ct peach zircon from Tanzania – looks like peach jello – don't you think?! Set in 18kt yellow gols, with 1.00ct diamonds in the halo. size 6.5
I think this color zircon is my favorite – like teal blue, and some call it "Windex" blue. Trillion cut with approx 1.00 ct of round and baguette diamonds accenting the setting of 18kt yellow gold
Zircon is an interesting stone.
Misunderstood and mistaken as the diamond substitute, cubic zirconia, zircon is a naturally occurring gem, and one of the oldest minerals on the earth. In fact, geologists use it as a time dating benchmark mineral to date rock and soil samples!
Here's the description from their site:
SOME INTERESTING FACTS ABOUT ZIRCON – Zircon is the oldest known stone on earth. Much older than diamonds and just as brilliant. For centuries, people thought these gemstones were actually diamonds. The fiery brilliance of Zircon rivals diamonds and any other gemstone. Zircons are double refractive, so if you look deeply into the photos, you will see a slight blur or doubling of the facets.
Zircon is one of the heaviest gemstones, which means that it will weigh more than other stones with the same measurements. Zircon is also a hard gemstone, which is perfect for jewelry.
Natural Zircon today suffers on account of the similarity of its name to "cubic zirconia", the laboratory-grown diamond imitation is not related to natural Zircon in any way. Many people are unaware that there is a natural gemstone called Zircon. Zircon is the Birthstone of December.
This gemstone is natural and is straight from the mines of Cambodia with the double refraction and high dispersion inherent in this gemstone. Zircons are the only gemstone that have higher dispersion than diamonds (more flash).  -California Girl Jewlery
Just like I said in the podcast, California Girl Jewelry's signature is their exquisite colored stones that most jewelers don't have, and spinel is one of those.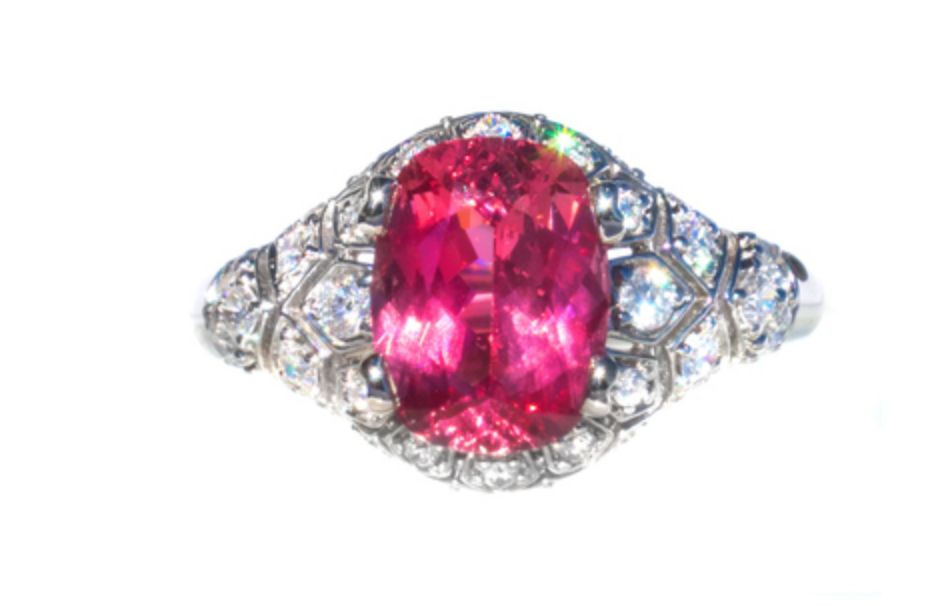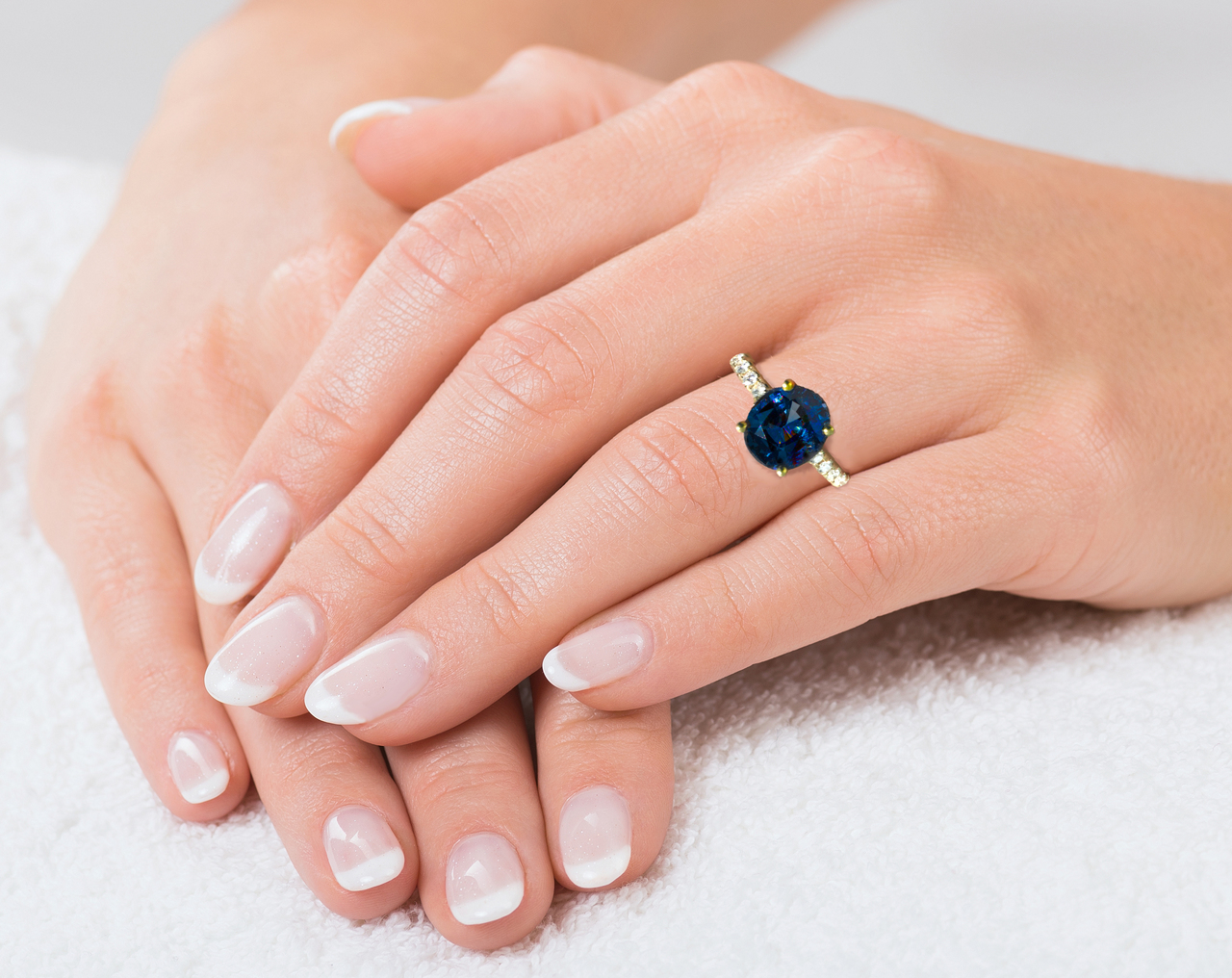 From top to bottom:
Mahenge spinel, set in 18kt white gold
 Color change blue spinel set in 18kt white gold
(Purple color change of the same ring above it
4 & 5 Same ring – blue spinel set in 18kt white gold.
Blue spinel
Honey Zircon 10ct! ring with interlocking weave design set with G/VS quality diamonds.
All rings pictured above were available as of 5/25/18.
Thanks for stopping by to check out the gems and jewelry we spoke of on the podcast.
If you have any questions or want California Girl Jewelry to custom make jewelry for you, contact them at californiagirljewelry.com or call them at  650.504.0646, or if you're in San Francisco, visit at 833 Market Street, Suite #621
San Francisco, CA 94103